Post by Mirabelle Bonnet on Feb 10, 2015 16:57:29 GMT -5
___ S H I N I G A M I ___
The Soul Reaper
__My Body__
Name: Mirabelle Bonnet
Age / Apparent Age:
Gender: Female
Height & Weight: 5'9" 160 lbs
Hair & Eyes: Her hair is a thick fiery red mane that falls just short of her waist. Most often it's held in a lengthy ponytail by a simple black ribbon. Stray hairs have been known to frame her face, greatly complimenting her dazzling green eyes.
Physical Description: Her face has a natural radiance most women would covet, seeing most of her features as fitting the traditional standard of beauty. Her cheekbones come from a lineage of royalty long since fallen in the mortal world, high and angled falling to a beautifully sculpted smile. Her eyes dance with a newfound fervor, a hunger for more than what she is, a zeal for life that invigorates anyone who takes heed to her words.
While her idle expression isn't as happy as it once was, it would also be wrong to say she has a resting bitch face. Most often, she appears to be lost in thought, her bottom lip finding itself just inside her top row of teeth with her eyes drifting up and to the right.
Her skin is a fair shade, falling just short of white, and is only made paler when coupled with the blackness of her uniform. Freckles lightly dust her face and shoulders, gradually fading in intensity the further away from her nose they get. Her left arm bears a set of six fading lines, the only physical mark of the betrayal from her Zanpakuto spirit.
While her physical presence lacks anything domineering, anyone who's sparred with her can attest that she's quite nimble and incredibly flexible thanks to her well toned muscles. Those muscles are often kept covered by her uniform which she can be found wearing everywhere except to bed when she changes into pale blue peignoir.
Spiritual Description: Her soul is a curious one, having spent so long compressed and confined into something it wasn't. Her growth having been stifled from the inside out, her reiatsu reflects this. Orbs of varying colors surround Mirabelle, drifting lazily about her as she moves but never drifting too far away. The ones who lag behind are suddenly tugged forward, much like a ball on a string. The orbs themselves are surprisingly sturdy and give resistance to that which presses on them, though they can be popped if the right kind of pressure is applied. After even one is popped the rest follow suit and they all spill their colors into the world, eventually the colors all meld into one rainbow sea before fading into a deep red hue.
__My Mind__
Personality: Mirabelle is a person that's trying to find herself. Having the very recent revelation that her spirit hid memories from her, lied to her, and made her into a puppet really made her question who exactly she is. Deep down she knows that she wants to be nothing like who her spirit wants her to be, but that does also come with the fear that she will end up like her spirit. So, she's fighting to be the best person she can be given what she knows lives in her soul.
She is who everyone wishes they could be when it comes to people, she doesn't form opinions of people until she's met them and began to understand who they are as a person. Unless it for some reason interferes with her own plans and goals, she will move heaven and hell alike for those she deems worthy to ensure they meet their goals.
Much as one would expect, she will also ensure those who have scorned her will experience whatever kind of hell she can bring down on them. The only "person" so far to have earned that much anger thus far has been her very own Zanpakuto spirit. Betrayal is an unforgivable sin in her eyes and her spirit has gone above and beyond what she ever could have thought possible. Another good way to get on her bad side is to take something, or pursue something, that she believes is hers. Regardless of whether or not it was hers, it's all about her perception of what she believes to be hers. Unless the person has taken something major, it's not guaranteed to make her hate an individual but it's certainly not going to get her to do any favors for the person either.
As of now her biggest fear is becoming like Beldame. While she recognizes the negative aspects of herself, she strives to ensure they never swallow her and make her into anything like her spirit.
Positive Qualities:
Loyal
Resourceful
Curious
Negative Qualities:
Vindictive
Jealous
Possessive
__The Shared Soul__
The Witch: Beldame is a spirit of vengeance, one who seeks to end any and all who oppose her. And, by extension, anyone who would stand against her wielder. Having had her visage ripped to shreds by Sadako, she's now forced to display her grisly true form.
Befitting the era in which Mirabelle was born, Beldame takes on the physical form of a headmistress of sorts. Rather than the put together and respectable appearance one would expect upon hearing that, she's everything but.
Her charcoal grey hair is piled atop her head in a knotted mess, held up by what appears to be a strip from one of her sleeves. More often than not, rather than a gentle smile and words of encouragement, her face is contorted into a snarl and spewing obscenities at the damned who walk her plane. What visible skin there is, is a ghastly white. As though the body had been drained of blood. Despite this, blood still trickles from the wound in her neck and down the front of her gown.
The Mystery: Sadako seeks nothing but truth. She seeks to be everything for Mirabelle that Beldame is not. So where Beldame is for lies and treachery, Sadako is for truth and understanding. Her form is rather simple, lengthy black hair that reaches past her waist, covering everything but the bits of mask that protrude from its veil. Her main body is covered in a simple white gown, one that would be very sterile looking if it weren't for the blood that soaked it from the waist down. Her secondary body, forged in an attempt to escape Beldame's binding, is that of a child. The body itself is naked and devoid of anything that would identify it as male or female, overall the body itself is lacking in definition beyond its face. It's eyes are deep set into the skull and inherently wide to the point that she, more often than not, seems afraid. The lips are pale, to match every other part of the body, and hide a deceptively wide mouth. Sadako's bodies are connected via an umbilical type cord that connects at the child's naval and disappears beneath her main body's gown. Despite the fact that they are the same entity, the two bodies can on occasion be seen having a discussion. When referring to herself, she alternates between using me/my/our/or the royal "we."
Main Body
Secondary Body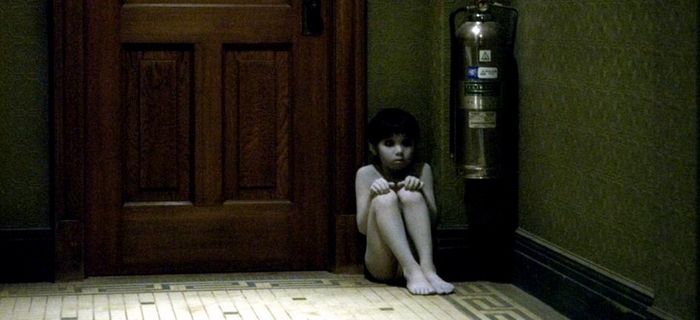 Their World: Her world is not a simple one, as it is ever changing as she comes and goes. Often times, Mirabelle will find that the buildings or landscapes she's only just left are twisted and decrepit as though left to time itself. She finds herself walking the ruins of the buildings most often, as the tombstones are the most sparse there. Outside of the ruins gnarled and petrified trees stretch toward the sky, perhaps pleading to free their roots from the Earth that has become nothing but a dumping ground for the Witch and her disciples. The witch comes only when called, while her disciples walk aimlessly around the plain. Their gaping mouths and bloodied eye sockets making them grotesque disfigured memories of the people whom they once were. Despite lacking any source of light, there is a pale glow like that of a full moon that washes everything in a blueish hue.
Her Body: In no sense of the word is Beldame "traditional." The blade seems simple at first glance, a length of curved black metal that gives off an errie shine. Upon closer inspection, one finds that there is a rainbow of colors flitting just beneath the surface of the blade, despite the fact that no liquid can be seen, heard, or felt when swinging the blade. Her guard is that of a series of intertwining lines, seemingly sporadic and nonsensical yet one can't shake the feeling that it resembles a web. The sheath appears to be made of the same material as the blade, a shimmering rainbow of color just below its outermost surface.
The Curse:
Release Phrase: The true release phrase is "Condemn them, Beldame" however Mirabelle chooses to bastardize this and often will just use the phrase "Release" or, if she's feeling sentimental, "Resolve"
Shikai Appearance: Upon release, the blade makes a loud popping sound and the liquid within it falls from the pommel to her feet. The blade, now crystal clear from tip to pommel, seems to be made of a clearer crystal than it's sheath. Through the course of a battle, the blade will begin to fill with a sickly and vile looking substance that sloshes about inside of the blade, leaving a filmy residue as it recedes or as the blade is swung. Aside from the cosmetic shifts, nothing else about the blade itself changes.
Shikai Power: Beldame is very protective of her wielder and while she, in attitude, has a very strange way of showing this her power is very reflective of this part of her personality. Any act against Mirabelle she considers a sin and all sins, in her mind, must be atoned for. Acts against Mirabelle, in combat, are as one would expect. Any attack that is fired at her, any punch thrown, or blade swung is an irredeemable offense in the spirit's mind that must be punished. For each attack levied at her, the volume of sickly liquid inside of the blade grows. It's volume grows and grows until the blade itself is about to burst. When it reaches this point, Mirabelle must throw the blade or be at risk to suffer the effects of the sins against her. After being thrown, or the blade otherwise bursting, the liquid inside the blade oozes out and becomes like tar. Ideally, the blade is thrown directly at the opponent so as to weigh them down with the effects of their sins so that Mirabelle can enact revenge for what the opponent has done. The substance from her blade releases noxious fumes that become dangerous to breathe the longer they're exposed to open air. While these fumes can linger even after release, any and all 'tar' from her blade vanishes upon sealing her blade.
__My Memories__
Current Division: Third
Previous Divisions: Third and First, in that order.
Snapshots:
1950- Transferred to the First for advancement [Age: 199]
2015- Confronted Lethas and lost her arms [Age: 244]
2015- Met Obsession and gained an Inner Hollow [Age: 245]
2016- Transferred back to the Third after the First was dissolved [Age: 245]
2016- Discovered Beldame's treachery [Age: 245]
History:
[April 20, 1771]
Mirabelle was born to a lowly servant, fathered by a French noble. Still squawking and bloodied, she was passed off onto a local peasant by her father. The couple was already paid off, and were of the understanding that they'd have to raise her as their own daughter until the day he returned for her.
[1776]
Her "parents" reveal the plan that her real father had hatched. Her world quickly turned upside down as they began to demand she call them by their first names around the house, as well as forcing her to practice 'proper posture' among other forms of edicate.
[1785]
A local farm boy, Elliott, snared the young girl's budding heartstrings. She fell hard into his sweet nothings, thinking that the fleeting feelings she felt for him were true love. Ultimately, the two wound up sleeping together and sharing secrets.
[1789-1790]
Her parents pick up and move, unnerved by the raising tensions in her "home"town. The small family moves from village to village, often camping out in the countryside between towns.
[May, 1790]
Mirabelle's family is cornered by the rebel force. As she was dragged from the building her family was just coming to call home, she caught a glimpse of Elliott amongst the milling rebels and the cold wash of realization began to come over her.
[June, 1791]
Exploiting a flaw in the caravan's security, Mirabelle escapes her captors. The ransom they'd been holding her for didn't seem to be coming, and she feared an end was near.
[July, 1791]
Making it only a measly month, she finds herself tracked down to a backwater country town by the rebel group she'd been avoiding. Elliott is the one to find her, and rather than taking her hostage once more he confesses to her what he'd done before killing her in cold blood.
[July, 1791]
Waking to find herself as a Plus, Mirabelle begins to wander the small town. Not knowing where she is, or what's going on around her, she quickly runs into a hollowbreed. The beast isn't terribly powerful, but without a weapon or powers of her own it's more than a match for the freshly woken plus. Before she can be eaten and added to the amalgamation of the hollow's gut, it's purified by a patrolling shinigami. The woman assures Mirabelle that all is well and she'd going to a better place before konso-ing her.
[1779]
After being reborn into the Ruklongai, Mirabelle had a rather uneventful few months as she adjusted to what was her new life. She moved rather freely from district to district, mostly doting between the two she'd first appeared in, before Hibiki found her. Her hair caught his attention as she rummaged through the garbage behind his restaurant, finding that she had no means of speaking and was essentially a child, he took a sort of pity on her. He took the time to teach her how to read and write, and even offered her a room above the shop. Of course, this wasn't without its benefits to him. He offered these things only should she perform daily in the shop for his customers.
[~1780-1850]
Their bond grew over the years, he coming to look on her as a daughter much as she looked at him as a father. He'd far exceeded the burden of compassion that would have befallen a mere concerned citizen, while she'd come to pass the sort of begrudging acceptance she'd first felt at his 'kindness' and come around to truly appreciate everything he'd done for her.

[1850]
After finding the Shinigami who'd performed the purifying ritual on her, Mirabelle came to Hibiki with a heavy heart. She was now torn between pursuing the career of a shinigami and living the life she'd come into. His centuries in the afterlife came in handy when consoling her, offering that he knew she wasn't abandoning him should she choose to leave, proving that in this life he was the father she should have had in her first.

[1851-1856]
The academy, while challenging in its own right, was soothing for her soul. She'd found rest in the repetition of the class schedules. A sense of belonging was a fitting description for how she felt amongst her peers, something that was almost like the familial bond she'd shared with Hibiki but also inherently of a different nature. It was hard for her to put a finger on it, but she relished in the fact that she felt so at home.
[1857-1950]
While the Third division was most certainly best fitting of the divisions, it lacked that sense of belonging she'd felt in the academy. The sense of uneasiness stayed with her for the first few months of her stay, before she made a more stable relationship with her Zanpakuto spirit.
As the months grew into years of her serving the division, her relationship with her spirit grew. [1857-1950]The two would spend hours talking together in the curious realm of her Inner World. Mirabelle would frequently find herself lost in the words of her spirit's wisdom, often forcing herself to leave the spirit in favor of her duties outside of herself. The spirit was persistent enough to convince Mirabelle that her best way of moving forward was to accept the invitation into the First division, despite her own reservations about leaving her current 'home.'
[1950]
She quickly found that the duties of the First were not all that different from that which she'd expected, at least not those that she'd been handed. While they had recruited her for her expertise in Hado, it'd be years before she'd be assigned anything that had to do with her talents. Questions as to why her spirit had pushed this on her were met with silence or subtle diversions meant to curve the conversation.
[1950-2015]
It was here that her soul plateaued, neither growing or shrinking in power or depth. She did and did, lived and lived, but without purpose. Slowly, her soul began to wither. Any internal spark of growth or ambition was snuffed out before it could fully form.
Slowly her personality degraded, until she was little more than a malleable puppet. The perfect tool for a Spirit to manipulate and control from the inside.
[2015-2016]
Before all was lost, she finds the budding seeds of romance anchoring her in reality and pulling away the threads of the Spider's web. The web itself was almost set ablaze as a third party was introduced to her soul in the form of Sadako, but she'd quickly been stuffed away before she was able to shed too much light on the goings on of Mirabelle's soul.
[2016]
Sadako makes her first appearance before Mirabelle, destroying Beldame's illusion, as well as the relationship between her Shinigami and Spirit.
__My Creator__
Player Alias: Mira
Do you want a grade?: Yes, my last grade would have been 0 (before the change, I got 1500/300)
Were you referred by anyone?: Nope
Other Characters:
Marshal Corvus
Bonnet, Mirabelle
Haganji
Personnel FileAge / Apparent Age:
244 | Early 30's
Gender:
Female
Height & Weight:
5'9" 160 lbs
Hair & Eye Color:
Red and Green
Positive Traits:
Ambitious, Creative, Loyal, Inquisitive
Negative Traits:
Relentless, Vindictive, Jealous
Loyalties:
The Third Division
Snapshots:
April 20, 1771-Born a bastard child to French royalty
July- 1791 Caught by the boy she thought she loved, Mirabelle is killed
July- 1791 a konso is preformed on Mirabelle to send her to the Soul Society
1780 Mirabelle is taken in by a Rukongai citizen and is taught how to read and write in exchange for her performances in the man's shop
1851 Joins the academy
1857 Joins the Third
1950 Transferred to the First
2015 Transfers back to the Third after Kiriko reworks the First
2015 An encounter with Obession leaves her with an Inner Hollow
Physical SpecificationsPhysical Description:
While taller than most women, Mirabelle is far from imposing. Her body is lithe and muscular despite her lack of physical strength in comparison to others in the shinigami ranks. The muscles she does have are best displayed as she flits around a battlefield, her body twisting and turning in feats of flexibility most would only dream of. Most often her stance is fairly rigid as she makes her way around the division and the Seireitei in general, a fear that she'd be considered unworthy of her position being more than enough to keep her spine straight. While this is the case in the public eye, on her own time she finds herself easily sinking into her surroundings. Those that find her in these rare moments will find her leaning back into the trunk of a tree or sprawled out in the sunlight on a bench beside a window.
Her face holds all the angular features one would expect from the nobility of her mortal life, though her cheeks help round out her face from being too masculine. A generous line of freckles run across the top of both cheeks and sporadically spotting her skin down the rest of her face, though in far less frequent a manner, down to her exposed shoulders where they appear more heavily once more. Despite her career in the Gotei, the skin most people can see is free of any blemishes or scars. If asked, she'll credit this to the staff of the hospital though in truth it's because of her preferred style of fighting which keeps her away from most immediate dangers.
Spiritual Description:
The feeling of the redhead's reiatsu is something most people are happy they don't recognize. It begins as something that's hard to catch like trying to get a fistful of oil from a bucked of water with your bare hands. But once it's been fully grasped it's as though you've submerged your entire being into a pail of oil paint. You can exit it as freely as you entered but no amount of water will ever rinse it off, and there's a possibility you may never feel clean again.
Psychological ProfilePersonality:Goals:


Take back command of her division
Be the glue that holds the division together
Work toward making something specifically for fellow kido users

Zanpakutō FileZanpakutō:
The blade is no longer the glossy black one that it's wielder knew. In its place is an opaque blade seemingly made of glass that houses a vile looking liquid inside. When swung the liquid can be seen sloshing around inside the blade's body and trying its best to cling to the sides of the small cavity. There is little but a raised edge to provide any sort of cover for the user of the blade, not that the weapon sees much use in combat. Most often the sword sits inside of its sheath beside the weapon's master. The sheath itself is as unique as the blade it houses, comprised of what seems to be a milky quartz-like material.

Zanpakutō Spirit:
Beldame would be far from the standard zanpakuto spirit, if such a standard did exist. In the spirit one can find all that Mira wishes she wasn't. Beldame is the source of Mira's vindication and her desire for revenge. She is every wild and unkempt emotion the shinigami doesn't wish to feel. Past betrayals of the spirit have lead Mirabelle to no longer wish to have any sort of relationship with the spirit and talking between the two is rare. Most often it comes as Beldame trying to reach across the gap that's grown between them, only for her hand to be slapped away in disgust.
Her appearance is that of an old school teacher, something Mirabelle never had in her mortal life but the outfit the spirit sports is fitting of the time her shinigami hails from. The spirit's hair is piled atop her head in a tasteful but tight bun, though more often than not stray stands of hair have been known to slip free and bounce haphazardly around her face. The whole front of the spirit's outfit is doused in an ever flowing stream of blood the trickles from a slit across her neck. A grisly reminder of the injury that ended Mirabelle's mortal life. As such both the blouse and skirt seem to have darkened from a crimson shade to one that nears black.

Shikai:
The true release phrase is "Condemn them, Beldame" however Mirabelle chooses to bastardize this and often will just use the phrase "Release" or, if she's feeling sentimental, "Resolve"
Upon release, the blade makes a loud popping sound and the liquid within it falls from the pommel to her feet. The blade, now crystal clear from tip to pommel, seems to be made of a clearer crystal than it's sheath. Through the course of a battle, the blade will begin to fill with a sickly and vile looking substance that sloshes about inside of the blade, leaving a filmy residue as it recedes or as the blade is swung. Aside from the cosmetic shifts, nothing else about the blade itself changes.


Inner Hollow:
Sadako is a creature of mystery to the shinigami. They are, from an outside perspective, everything Mirabelle wishes herself to be or what she envisions herself as being able to be if only she were free of Beldame's influence. To her they are, for the moment, an individual who comes to her in times of need or when she otherwise needs direction when she strays too close to the abysmal future in which she aligns too closely with her zanpakuto spirit. They remain distant aside from those few instances and conversations with the pair are usually fairly brief as they refuse to give any information or insight that the don't feel Mirabelle might need at that very moment in time.
The spirit sports two bodies of very simple design; the first being a 'mother' who wears nothing aside from a bloodstained gown and the mask that Mirabelle herself wears, and a 'child' who's features are androgynous and as such wears no clothing. When either of the pair speaks their voice seems to echo from every angle around those who can hear it even if neither one's mouth moves.



Mask Description:
When donning her mask, Mirabelle seems to go into a sort of coughing fit. She doubles over as if in extreme pain while hacking and wheezing, before she eventually looks up and tears of blood can be seen streaming down her face. Following in the wake of the blood flow are little pieces of her mask which quickly fall into place before she begins to expel the bulk of her mask from her mouth, as if throwing up. Some of the pieces seem to almost be projectile vomited from her mouth as they come to form the 'beak' of the mask.
As the mask completely forms, it stretches from the top of her forehead all the way down to wrap around the bottom of her jaw. There seems to be no beginning or end of her eyes while wearing the mask. Instead her eyes, while still remaining green, seem to glow in the shadowy pools of the mask's eye holes. There is little definition to the mask in terms of detail. It bears no added color aside from the blood stains from its creation and no intricate details that other masks might sport. While it does lack detail, those who see it up close would be able to note the hairline cracks that spiderweb their way over the entire surface of the mask.
The mask itself seems to hiss as she wears it as air constantly seeps out from the cracks in the mask's surface. Air around Mirabelle seems to waver as she wears the mask, making her seem almost ethereal as she remains the only solid object in her immediate surroundings. Head movements cause the pieces of the mask to grind against one another resulting in a sound not unlike a rock skipping across concrete.


Mask Power:
Put simply the power is the ability to manifest a target person's memories. Through the shifting air around her, a given target may slowly begin to take note of things moving where there should be nothing but open air. Slowly but surely as Mirabelle advances in her attack, or more simply the longer she wears the mask, the more solid the background distractions become until the memory is a solid layer over the true surroundings.
Sadako's hope is that through this given power, Mirabelle will be able to understand the actions of those who she fights. She knows all too well that Beldame would have Mirabelle blindly follow what her feelings tell her is right and wrong, but she wants her shinigami to be better than that. She wishes for her to see what lays behind the person before her so that Mira will understand why they do what they do. Even if Mira doesn't agree with the reason for it, They feel she should at least know the reason is there.
What Mira is really after with this power is making them fight on two fronts, like she's had to do for so long. Not only will her opponent have to face her but there will also almost always be the constant threat of a phantom sword swing or punch from decades passed. Or, once she has more control, she can make the opponent face heartache of a loved one's burial while still trying to stave off her attacks.
Inner World:
Mirabelle's inner world is a mirror of the one she leaves behind to enter it. More accurately, it is a mirror image if the mirror were to be left unattended for countless years. In this place stone is worn smooth by weather that never happened and time that never passed, walls have been broken down by forces that don't exist, and building collapsed by countless things that as one can guess have yet to happen. It is a world of ruin and scattered on the ground in the place are innumerable graves to mark the bodies of those who would have passed on. Though rather than being congregated in one place the entire realm seems to be a graveyard and one can find any number of them in the strangest of places. Walking in this strange landscape one can find twisted figures that seem to be ripped straight from a nightmare. These beings are either creations or designed servants to the place's original spirit.
Documented HistoryOrigin:Rise to Power:Call to Action: